Jumla exports apples worth Rs 170 million
November 22, 2018 | 9:31 pm&nbsp&nbsp&nbsp&nbsp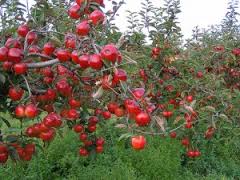 Jumla / Nov 22: The district has exported apples worth around Rs 170 million in the fiscal year 2018-19.
The apples were exported in the last two months. The statistics has shown that a farmer has earned Rs 50,000 to 1 million by selling apples. Around 3,400 tons of apples were produced in Jumla this year according to Prime Minister Agriculture Modernization Project, Jumla.
Balak Ram Devkota, an expert at Agriculture Knowledge Center Nepal, the apples grown this year is more compared to last year though the production incommensurate with the area.
Local units had imposed 50 paisa in revenue on apples per kilogram while 300 traders from eight local units had taken permission for exporting apples.
Apples farmers had sold apples for Rs 60 per kg from their orchard.
According to Devkota, the apples are graded as A, B and C before being ferried to major cities including Nepalgunj, Surkhet, Biratnagar, Pokhara.
Apples have been in the area of 3450 hectors, of which apples grown in 900 hectors are yielding fruits.
Among 18,000 households living in Jumla, around 14,000 farmers have apple farms.