Nepathya performs in Dharan after almost 15 years
November 24, 2018 | 9:27 pm&nbsp&nbsp&nbsp&nbsp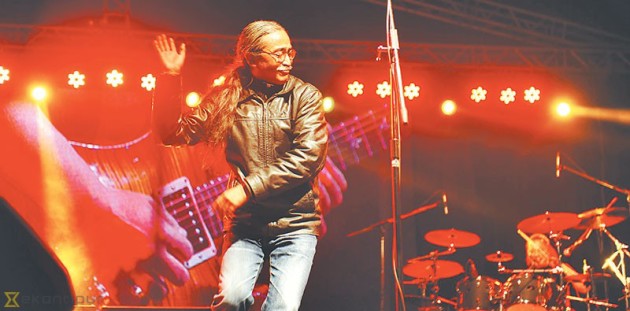 Sunsari / Nov 24: Nepal's premier folk-rock band, Nepathya performed their second show of their on-going Nepal tour to the music enthusiast of Dharan, after nearly 15 years, on Friday evening.
Dharan, a town once known as the Gorkha recruitment center for the British Army, is today known as a town of BPKIHS, a medical institute.
Dharan show was jointly organized by a student body within BPKIHS and MC coffee hour a local coffee joint.
The concert started with the band performing their first song – Aganai Bhari during which Nepathya's 25-year journey was shown in pictures on the projection screen.
The show continued with Nepathya's classic hits Chekyo Chekyo, Jomsome Bazaar, Resham to Mai Mari Jaunla along with their recent releases Koshi ko Paani and Sirfula. Whatever song the band would sing, the audience sang along.
Among the audience, there were sizable number of students and faculty family of BPKIHS.
After Dharan, the show will now travel west and perform in Butwal on November 26 before concluding in Dhangadhi on the November 29. Courtesy : Myrepublica