PM directs to expedite development construction works
November 24, 2018 | 9:27 pm&nbsp&nbsp&nbsp&nbsp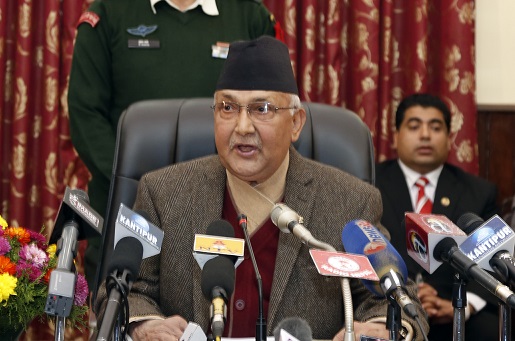 Kathmandu / Nov 24: Prime Minister KP Sharma Oli has directed the concerned authorities to speed up development construction works by removing procedural hassles.
In a review meeting on budget implementation of the current fiscal year held at the Office of the Prime Minister and Council of Ministers here Saturday, Prime Minister Oli asked the ministers and secretaries to focus on works and also to become accountable.
The Prime Minister was of the view that the people would not realize the result of service delivery in absence of the action but preparations of the prompt report.
On the occasion, PM Oli also urged all to work seriously adding that the government must succeed to meet the serious responsibilities. "This meeting is not the review of mere imagination. It was organized to assess the implementation status of government policy, program and budget till date," the PM added.
The PM said, "The ministries have tried to become more or less creative; good beginning is seen for implementation but it should be expedited."
Furthermore, the PM directed the ministers and secretaries not to go for unnecessary foreign trips and stressed for result in every action while seeking promptness in all mechanisms.
The PM was of the view that it was necessary to complete the designed task with low cost as the government follows austerity policy.
During the review meeting, Minister for Finance Dr Yubaraj Khatiwada and Vice Chairman of National Planning Commission Dr Pushpa Kandel also put forth their opinion.
Talking to the media after the meeting, Minister Khatiwada said that discussions were held to work proactively to ensure better outcome also by allocating budget in case of insufficiency or incomplete ones during the time of budget allocation in the projects.
"Serious discussions have been held to take the government decision process into implementation without taking more than a fixed timeframe," the Finance Minister shared.