VP champions to develop Jumla as medical hub of Karnali Province
November 27, 2018 | 8:11 pm&nbsp&nbsp&nbsp&nbsp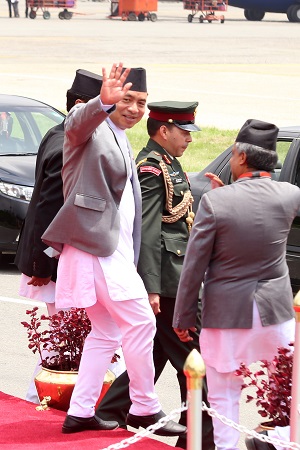 Jumla / Nov 27: Vice President Nanda Bahadur Pun said that the government would develop Jumla as the medical hub for Karnali province.
Inaugurating the Bachelors in Midwifery at the Karnali Academy of Health Sciences (KAHS), Pun said that nobody would have to die due to lack of timely treatment. "The region had been suffering from the lack of quality health services. But now, with the expansion of services and complimenting curricula, it is making headways," Pun said.
He added that KAHS could be developed as the province's medical hub by improving and increasing access to quality health services. He said that the government would extend its support to start MBBS and MDGP courses in the near future.
The province's Minister for Internal Affairs and Law, Naresh Bhandari said that the residents of Karnali Province wouldn't have to succumb to untimely deaths due to lack of treatment. "Before, there wouldn't be a doctor to carry out post-mortems. Now, four doctors from KAHS are working in Surkhet for the same."
KAHS said that it had also finished preparations to run the Bachelors of Public Health course. On September 22, the Nepal Health Professional Council had granted permission to KAHS to run the course on public health. KAHS is carrying out an entrance examination to the degree on December 8.