Plastic-free campaign to be launched at Rara; Rafting brought into operation in Tamor River
November 29, 2018 | 9:09 pm&nbsp&nbsp&nbsp&nbsp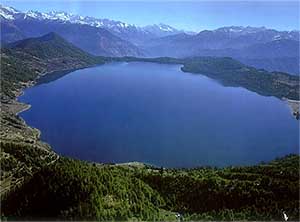 Kathmandu / Nov 29: The campaign would be initiated from Rara located at an altitude of 2972 metres above sea level. Art Summit Travel and Tours is coordinating the Campaign.
Organisers plan to clean an area of seven kilometers from Tallomili to Rara and place 15 dustbins at various places on the stretch to mark the beginning of the campaign.
Managing Director of the Art Summit Travel and Tours, Som Bahadur Tamang, said that the campaign aims to reduce an adverse impact in the environment caused by haphazard use of plastic.
Rafting brought into operation in Tamor River
Rafting has recently been brought into operation professionally for the first time from Pinashi to Majhitar covering 12 kilometres in the Tamor River of Panchthar district.
Tamor Valley Travels, Tours and Trekking Pvt Ltd started operating rafts professionally.
Phidim-based Tamor Valley Guest House is the midpoint for rafting. The tours and trekking company provides breakfast and lunch for guests who book tickets for rafting. The cost for the same is Rs 3,000 per person.
Tamor Valley Travels Tours and Trekking Pvt Ltd had bought a 16-feet long raft for Rs 22 lakh with approval from the Ministry for Tourism and Civil Aviation.
Guide Rajan Thapa Magar, who has six years experience in rafting, has been managing the business. It will take around two-and-half-hours for the 12 kilometres rafting adventure.
Former chairman of Nepal Rafting Association Gopal Kharel said that a survey was carried out from Taplejung's Dovan to Chatara of Sunsari in the Tamor River in 1997. He said that it was the first time that rafting was brought into operation professionally even though foreigners had visited the river occasionally. The association said that rafts would be added soon to facilitate visitors. RSS