A glance of Asia-Pacific Summit 2018
November 29, 2018 | 9:08 pm&nbsp&nbsp&nbsp&nbsp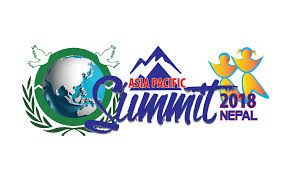 Kathmandu / Nov 29: With the slogan "Addressing Critical Challenges of Our Time: Interdependence, Mutual Prosperity and Universal Values" Nepal is hosting the regional summit for Asia-Pacific nations, which is scheduled to be held on November 30-December 2. According to the organizer Universal Peace Federation, Nepal chapter, this summit will be an event of high importance in terms of world geopolitical scenario, majorly in bringing a strategic shift in the positioning of Asian nations.
Dignitaries from various Asia-Pacific countries have landed in Kathmandu to attend the APAC Summit 2018 summit and many others are making their way to Kathmandu.
Prime Minister KP Sharma Oli, former prime ministers Pushpa Kamal Dahal and Madhav Kumar Nepal, speaker Krishna Bahadur Mahara will be attending and delivering their keynotes on various topics during the summit.
Similarly, dignitaries from the Asia-Pacific region including Cambodian Prime Minister Hun Sen, Burmese State Counselor Aung San Suu Kyi, Head of States from Nauru, Samoa and Tuvalu, Vice-President of Philippines and former prime ministers H D Deve Gowda of India and Syed Yusuf Raza Gilani of Pakistan will also attend and address the summit to be organized at Hyatt Regency hotel.
The global participants from various walks of life will give their opinion on various topics including peace, development, good governance and the role of parliamentarians, the present challenges of the climate change, the role of media, peace initiatives and peace and projects around the world and social issues including strengthening marriage and family.
Likewise, the summit will also incorporate the issues related to the UN Sustainable Development Goals (SDGs). The summit will conclude on December 2 issuing the Kathmandu Declaration for peace and cooperation.