Prez leaving for Poland Saturday for UN climate meet; MPTO withdraws odd-even rule amid criticism
November 30, 2018 | 9:53 pm&nbsp&nbsp&nbsp&nbsp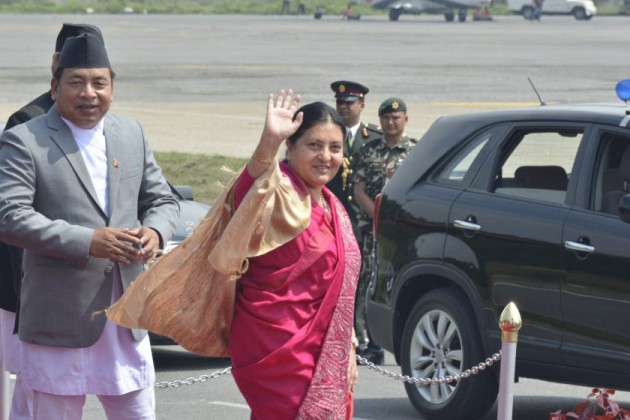 Kathmandu / Nov 30: President Bidya Bhandari is leaving for Katowice city of Poland on Saturday, leading the Nepali delegation to the 24th Conference of the Parties to the United Nations Framework Convention on Climate Change (COP 24).
President Bhandari will address Nepali community members at a function to be organized by the Embassy of Nepal, Berlin, which is also concurrently accredited to the Republic of Poland, and NRNA, Poland. President Bhandari will attend the official opening ceremony of COP 24 being held from December 2-14. She is scheduled to address the address the High-Level Segment of the COP 24 on December 3.
President of the UN General Assembly María Fernanda Espinosa Garcés is scheduled to call on President Bhandari on the sidelines of the conference on December 3.
MPTO withdraws odd-even rule amid criticism
The Metropolitan Traffic Police Office has withdrawn the odd-even rule from 11:30 today.
The MTPO withdrew the odd-even rule following the instruction of the Ministry of Home Affairs, the office said on Friday morning.
The odd-even rule was in place from Thursday. The MTPO brought the rule keeping in view the movement of Very Very Important Persons (VVIPs) during the Asia Pacific Summit 2018 which begins in Kathmandu on Saturday.
Earlier this week, the MPTO had decided to bring the odd-even rule for vehicular movement in force in the Valley from November 29 to December 3.
According to the odd-even rule, vehicles with odd number plates were allowed to run in the streets of the Valley on odd-numbered dates while vehicles with even number plates would be allowed to run on even-numbered dates.