94 per cent physical works completed at Gautam Budhha Int'l Airport
October 17, 2019 | 10:05 pm&nbsp&nbsp&nbsp&nbsp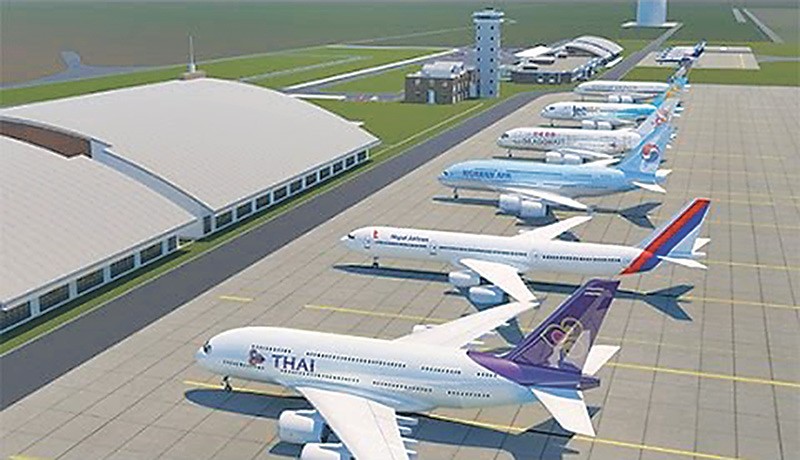 Mohammad Habib, Bhairahawa / Oct 17: Gautam Buddha International Airport at Bhairahawa, which is currently under construction, has witnessed the overall completion of 82 per cent works. It counts 82 per cent of the physical set-up and 18 per cent of electromechanical works of the project.
94 per cent of major physical infrastructures have been set-up so far. Giving it a final touch is the remaining task to be performed which accounts for only 6% of physical infrastructures.
Similarly, electromechanical works have been completed by 18 per cent. These works have been divided into two phases. Half of the pieces of equipment required for the first phase, ICP-1 have already been made available and others are underway.
Pieces of equipment required for the second phase is also being imported from various Europeans countries, USA, China and Thailand. Once they are brought, work progress will rise to 80 per cent. "We will install all the equipment in a month which means work is over," Project Chief Prabesh Adhikari told Republica Online adding, "If the pace of work remains constant, all the physical works will be completed by December this year and we'll launch a test-flight in the first quarter of 2020."
Adhikari further added, "Construction of the airport has now reached the final stage. Project, concerned ministries and other stakeholders are collaborating to sort out the challenging issues. The main challenge at present is to bring the equipment and set them up."
The Ministry of Finance has allocated a budget of 3 billion 340 million for the project to complete the first phase of works and start flights in the current fiscal year (2019/20).
Minister for Culture, Tourism and Civil Aviation Yogesh Bhattarai observed the airport last week and directed the authorities to complete the works by December at any cost keeping Visit Nepal Year 2020 in mind. On the occasion, minister and his team including Director General of Civil Aviation Authority Rajan Pokharel, Director of National Pride Projects Pradeep Adhikari and Project Manager of ICP-2 Prabin Neupane took the stock of work progress made so far. They also inquired about upcoming plans for the project. Minister Bhattarai also committed to solving any hurdle.
According to project chief Adhikari, they are working round-the-clock with a work-plan to launch a test flight in the first quarters of 2020 as per minister's direction. Courtesy: Myrepublica