92 thousand metric tonnes rice in stock
May 21, 2020 | 9:38 pm&nbsp&nbsp&nbsp&nbsp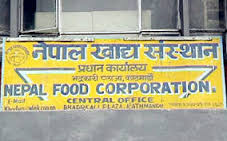 Kathmandu / May 21 : Ninety one thousand five hundred and four metric tonnes rice is in stock with the Food Management and Trading Company Limited, and the private sector traders.
As per the data released by the Ministry of Industry, Commerce and Supplies on Wednesday, the Company has 16 thousand 504 metric tonnes and the private sector industries 75 thousand metric tonnes of rice grain in stock.
Assistant spokesperson of the Ministry, Urmila KC said two thousand 843 metric tonnes rice, 664 quintals buckwheat, 524 quintals beans, 557 metric tonnes wheat and 18 metric tonnes lentils is in stock in the 23 remote districts of the country.
Similarly, Salt Trading Corporation has a stock of 137 thousand 966 metric tonnes salt in stock, including 2,825 metric tonnes in the remote districts. It has 2,263 metric tonnes sugar in stock while the private sector has 63 thousand metric tonnes in stock.
The Ministry stated that the private sector traders have 16 thousand 81 metric tonnes lentils and various beans in stock while 83 thousand 967 metric tonnes cooking oil is in the process of being imported.
Likewise, the Ministry stated that the Nepal Oil Corporation has 33 thousand 174 kilolitres of diesel in reserve. The Corporation had imported 932 kilolitres diesel through the Motihari-Amlekhgunj petroleum pipeline. The Corporation has 6,550 kilolitres petro, 2,142 kilolitres kerosene and 7,034 kilolitres aviation fuel in stock. The various LP Gas industries have 11 thousand metric tonnes cooking gas in stock. RSS