COVID-19 tally hits 1,811: Health Ministry; 25 patients discharged
June 1, 2020 | 9:46 pm&nbsp&nbsp&nbsp&nbsp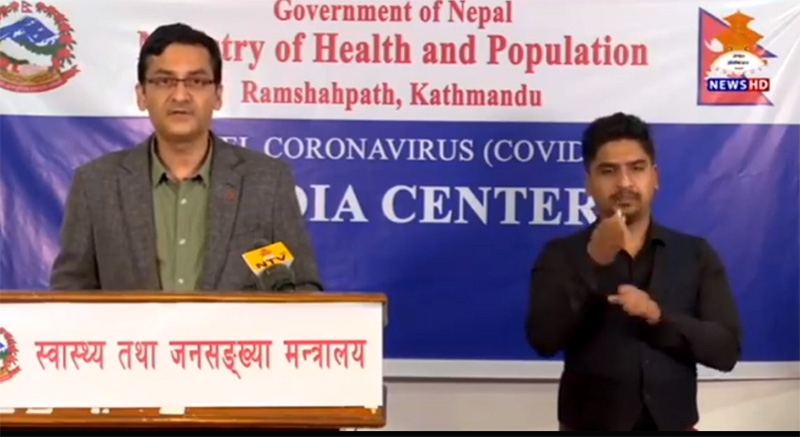 Kathmandu / June 1: The Ministry of Health and Population (MoHP) has confirmed additional 13 new COVID-19 cases today.
Two men aged 17 and 36 of Nisdi Rural Municipality, Palpa, a six year old boy of Sarawal RM, Nawalparasi, a 26-year old male of Resunga Municipality, Gulmi, seven men aged 19, 1, 26, 26, 27, 35 and 40 of Mayadevi RM, Kapilvastu and a 3-year old girl and 54-year old male of Gaidahawa RM, Rupandehi tested positive for COVID-19 in PCR test done at Rupandehi State Public Health Laboratory, informed the ministry by issuing the press statement.
Earlier today, the ministry had confirmed 226 new cases of virus infection during the daily press briefing.
With this, the national COVID-19 tally has reached 1811, including 221 cases of recovery and eight death cases.
25 COVID-19 Patients From Bhim Hospital Discharged After Recovery
Along with increasing cases of COVID-19, the cases of recovery from the virus are also increasing.
As many as 25 COVID-19 patients who were receiving treatment at Bhim Hospital, Bhairahawa have returned home after recovering from the disease on Monday.
According to Dr Uma Shankar Chaudhary, Chief of Health Division under State Ministry of Social Development, the COVID-19 patients discharged today from Bhim Hospital were from Kapilvastu and Rupandehi.
With this, the cases of recovery in State 5 have reached 71 while the remaining 50 are receiving treatment in isolation.
Prior to this, four COVID-19 patients receiving treatment at Butwal-based Corona Special Hospital were discharged.