Communications minister assures nationwide expansion Of 4G by next year
June 17, 2020 | 10:09 pm&nbsp&nbsp&nbsp&nbsp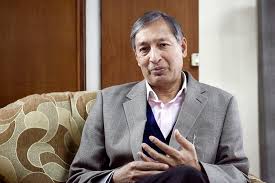 Kathmandu / June 17: Minister for Communications and Information Technology Dr Yubaraj Khatiwada has said homework was continued to expand the 4G service nationwide within the upcoming fiscal year.
In his replies to the queries in regard with Ministry raised during the deliberations on the ' Appropriation Bill-2077 BS' in the National Assembly meeting, the Minister assured the expansion of 4G aimed to connect all areas with the internet by the next two years.
The Minister went on to say that there was no debate that Nepal should have its own satellite and all procedures to this regard would be transparent and take place on the basis of competition.
He pledged the fair distribution of public welfare advertisement through a set procedure and criteria after the establishment of Advertisement Board. As he claimed, the fresh budget has addressed the issues of media more than those in the past. Processes have begun to operate Radio Nepal and Nepal Television under the Public Service Broadcasting so as to develop them as autonomous and competent entities. RSS