Farmers in Tanahu getting attracted to livestock insurance
October 3, 2020 | 8:51 pm&nbsp&nbsp&nbsp&nbsp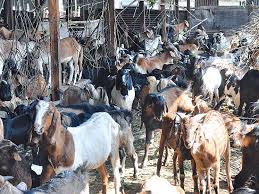 Damauli / Oct 3 : The number of farmers who have got their livestock insured has increased in Tanahu district.
A total of 10,795 animals were insured in the fiscal year, 2018/19 as compared to 36,421 animals in the FY, 2019/20, according to the veterinary hospital and livestock service centre, Tanahu.
Livestock insurances worth over Rs 381 million has been done in the district, said the centre's chief Dr Bal Kumar Shrestha. The government provided over Rs 19 million in premium fees and concerned farmers paid more than Rs 4.7 million.
NLJ, Sagarmatha, Prudential and Lumbini insurance companies have been offering livestock insurance service in Tanahu district. Livestock insurance has helped farmers a lot, said farmer Kashi Nath Bhattarai of Bandipur Rural Municipality-5. "Farmers will get relief when their insured animals die," he said. RSS