All govt hospitals in Valley to be turned into COVID hospitals
October 12, 2020 | 8:33 pm&nbsp&nbsp&nbsp&nbsp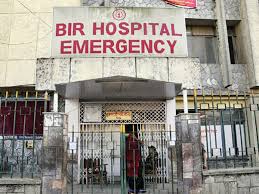 Kathmandu / Oct 12: The government has decided to convert all the government hospitals in the Kathmandu Valley into COVID-19 hospitals.
According to Dr Jageshwar Gautam, spokesperson for the Ministry of Health and Population (MoHP), the government has made this decision in view of lack of isolation centers in the Valley for COVID-19 patients amid the growing rate of COVID-19 cases in recent weeks.
The health ministry has also directed all the hospitals in the Kathmandu Valley to conduct surgery only in the case of emergency. "This will help in managing more isolation and ICU beds for COVID-19 patients," said Dr Gautam.
In recent weeks, the Kathmandu Valley has turned into a COVID-19 hotspot with four digits rise of COVID-19 cases on a daily basis.
As many as 2,283 new cases of COVID-19 were detected in the Valley on Monday.
The three districts within the Valley are the districts with the highest number active COVID-19 cases in Nepal.