Govt keen to collaborate with private sector
December 3, 2020 | 8:40 pm&nbsp&nbsp&nbsp&nbsp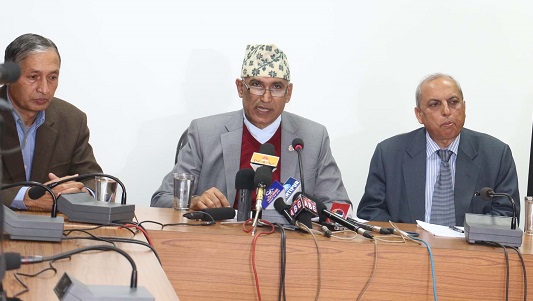 Kathmandu / Dec. 3: Finance Minister Bishnu Prasad Paudel has assured the private sector that the Ministry of Finance would give special emphasis to the development of and collaboration with the private sector.
Welcoming the newly elected leaders of the Federation of Nepalese Chambers of Commerce and Industry (FNCCI) at the ministry on Wednesday, he said that the collaboration with the business community would be further enhanced in the days to come.
"The FNCCI's plan to create research-based recommendations and submit to the government is encouraging. The government has given priority to implement the programmes announced for the business development and rehabilitation," he said.
He congratulated the new president of the business body Shekhar Golchha and recently elected working committee representatives.
Golchha had updated the minister about the General Meeting of the FNCCI and the election, held last week.
"The FNCCI is planning to move ahead by conducting a study about the impact of the coronavirus pandemic and prepare recommendation for the economic rehabilitation. It will be submitted to the government," he said.
According to him, some of the suggestions given to the government by the FNCCI had been addressed in the budget and monetary policy of the current fiscal year but the commercial banks are reluctant to implement the government programmes to support the businesses affected by the pandemic.
There is a need of business-targeted special economic stimulus especially to support the small and weakened entrepreneurs, Golchha said.
Likewise, the FNCCI is creating a vision document of the country with the support from international institutions. "This document is being prepared on the basis of successful models and experiences in foreign countries. It will set the immediate, medium-term and long-term targets for the country's development," he said.
Revenue Secretary Ram Sharan Pudasaini, Senior Vice-President of the FNCCI Chandra Prasad Dhakal, and vice presidents Dinesh Shrestha, Anjan Shrestha and Ramchandra Shanghai were present on the occasion.