1,272 new cases, 1,577 recovered and 16 deaths in 24 hours
December 4, 2020 | 8:01 pm&nbsp&nbsp&nbsp&nbsp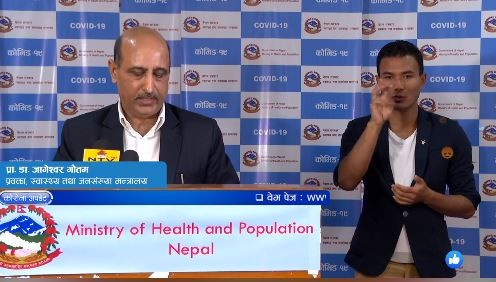 Kathmandu / Dec. 4: With 1,272 new cases of COVID-19 in the last 24 hours, Nepal's COVID-19 tally has reached 238,861.
The Ministry of Health and Population stated on Friday in its COVID-19 update that 8,031 PCR tests were conducted in the last 24 hours and that 1,272 persons were found infected with the virus.
There are 15,447 active cases of COVID-19 in the country as of today.
As many as 1,771,950 PCR tests have been conducted so far.
1,577 people got over the infection in the last 24 hours, according to the MoHP.
221,847 people have so far got over the infection.
16 persons succumbed to COVID-19 in the last 24 hours, according to the MoHP, taking the death toll to 1,567.
The MoHP said 637 persons were placed in quarantine across the country.
Infections in Kathmandu Valley increase by 606 on Friday
The three districts of Kathmandu valley reported as many as 606 new cases of coronavirus infection on Friday.
Of the total 1,272 new cases in the country, Kathmandu reported 440 infections while Lalitpur and Bhaktapur registered 125 and 41 infections respectively.
247 of those newly infected in the valley are females while 359 are males.
Currently, there are 5,996 active infections in Kathmandu. The number of similar cases in Lalitpur is 1,255 and that in Bhaktapur is 540. The total number of active cases throughout Nepal, as of today, is 15,447.
So far, 395 fatalities from Covid-19 have been reported in Kathmandu, 95 in Bhaktapur, and 120 in Lalitpur. The nationwide death toll has advanced to 1,567.
The three districts of the valley along with Morang, Kaski and Jhapa have over 500 active cases. Likewise, Manang and Dolpa are the only two districts with zero live infections at present.