COVID-19 update: 1056 new cases, 1483 recovered and 14 deaths
December 9, 2020 | 9:20 pm&nbsp&nbsp&nbsp&nbsp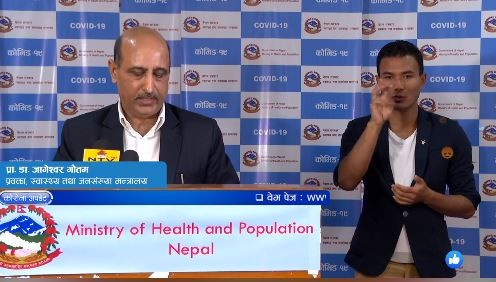 Kathmandu / Dec. 9: As many as 1,056 persons were found infected with SARS-CoV-2 in the last 24 hours.
According to the COVID-19 update of the Ministry of Health and Population, 1,483 persons got over the deadly virus while 14 succumbed to it in the last 24 hours.
12,245 persons, the active caes of COVID-19, are in isolation while 525 persons are placed in quarantine.
Till the date, 1,651 persons have succumbed to COVID-19. Out of 244,433 persons who tested positive for COVID-19, 230,537 have recovered from the infection.
1805,972 PCR tests have been done so far, according to the MoHP update about COVID-19.
Nepal's death rate stands at 0.68 per cent and recovery rate at 94.32 per cent.
496 new cases in Kathmandu valley
The three districts of Kathmandu valley reported 496 new cases of coronavirus infection on Wednesday.
Of the total 1,056 new cases in the country, Kathmandu district reported 393 infections while Lalitpur and Bhaktapur registered 75 and 39 infections respectively.
214 of those newly infected in the valley are females while 288 are males.
Currently, there are 4,781 active infections in Kathmandu, 940 in Lalitpur, and 453 in Bhaktapur. The total number of active cases throughout Nepal, as of today, is 12,245.
So far, 428 fatalities from Covid-19 have been reported in Kathmandu, 96 in Bhaktapur, and 128 in Lalitpur. The nationwide death-toll has advanced to 1,651.
Meanwhile, a total of 86,368 people have recovered from the infection in Kathmandu while 13,024 have recovered in Lalitpur, and 7,787 in Bhaktapur.
Kathmandu, Lalitpur and Kaski are the three districts to have over 500 active cases. Likewise, Manang and Dolpa are the only two districts with zero live infections at present.