1,500 COVID-19 recoveries, 830 new cases and 9 fatalities
December 13, 2020 | 9:25 pm&nbsp&nbsp&nbsp&nbsp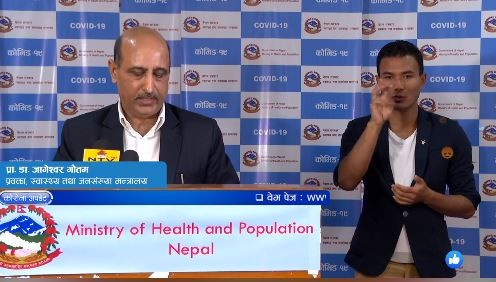 Kathmandu / Dec. 13: The Ministry of Health and Population (MoHP) on Sunday confirmed 830 new cases of COVID-19, taking the national tally to 248,423.
"In 5,181 Real-Time Polymerase Chain Reaction (RT-PCR) tests done in the last 24 hours, a total of 830 persons were found with the novel coronavirus infection," informed Dr. Jageshwor Gautam, spokesperson of the MoHP in the press briefing.
Currently, there are 10,994 active cases of COVID-19 of which, 4,762 patients are in institutional isolation while 6,232 are in home isolation. Likewise, 516 persons, mostly those who had returned from abroad are stationed in quarantine.
Of the patients in institutional isolation, some 294 are admitted to the ICU while 52 are receiving treatment with ventilator facility.
Meanwhile, a total of 1,500 persons either staying in home isolation or receiving treatment in various health facilities recovered from the infection in the last 24 hours. The total number of COVID-19 recoveries in Nepal has spiked to 235,731 and the recovery rate is at 94.9 per cent.
Moreover, nine people succumbed to the infection in the last 24 hours, taking the COVID-19 death toll to 1,698.
Kathmandu valley logs 348 fresh Covid-19 cases on Sunday
The three districts of Kathmandu valley reported 348 new cases of the coronavirus infection on Sunday.
Of the total 830 new cases in the country, Kathmandu district reported 258 infections while Lalitpur and Bhaktapur registered 65 and 25 infections respectively.
Of those newly infected in the valley, 150 are females while 198 are males.
Currently, there are 4,245 active infections in Kathmandu, 857 in Lalitpur, and 350 in Bhaktapur. The total number of active cases throughout Nepal, as of today, is 10,994.
So far, 443 fatalities from Covid-19 have been reported in Kathmandu, 97 in Bhaktapur, and 133 in Lalitpur. The nationwide death-toll has advanced to 1,698.
Meanwhile, a total of 88,258 people have recovered from the infection in Kathmandu while 13,392 have recovered in Lalitpur, and 8,005 in Bhaktapur.
Kathmandu, Lalitpur and Kaski are the three districts to have over 500 active cases. Likewise, Manang is the only district with zero live infections at present.