Pashupatinath temple to be reopened from Wednesday after nine months
December 14, 2020 | 9:04 pm&nbsp&nbsp&nbsp&nbsp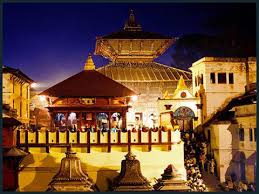 Kathmandu / Dec 14: The Pashupatinath Temple which remained closed for nine months owing to the novel coronavirus disease (COVID-19) transmission fears will be reopened from Wednesday.
The atonement worship will be performed at the temple on Tuesday morning, seeking forgiveness as the popular Hindu shrine had to be shut for the devotees for nine months due to the COVID-19 pandemic.
Devotees were barred from entering the temple to curb the spread of COVID-19 although it never remained closed for ages.
Pradeep Dhakal, member-secretary of the Pashupati Area Development Trust which basically oversees the temple management, said that the temple will be reopened for devotees by adhering to the health safety protocols.
In the initial period from Wednesday (December 16), the devotees would be allowed entry from the western gate and they will have to exit from the same gate after offering obeisance. They will have to compulsorily wear a face mask while being on the temple premises.
Although the temple will open from Wednesday, the special puja, singing of hymns and ritual activities, however, will not start immediately.
"We were forced to restrict ourselves during the COVID-19 pandemic. We will gradually start performing the special puja, singing of hymns and other rituals by adhering to health safety protocols," Dhakal added.
The PADT has incurred losses around Rs 700 million in the past nine months, according to PADT officials. Regular prayers, aarati, food offerings and the crematorium services were not halted during these nine months.
PADT former member-secretary Dr Gobinda Tandon said that Pashupatinath Temple never remained shut for such a long time in its recorded history. RSS