1,097 COVID-19 recoveries, 588 new infections and 11 fatalities in 24 hours
December 20, 2020 | 9:17 pm&nbsp&nbsp&nbsp&nbsp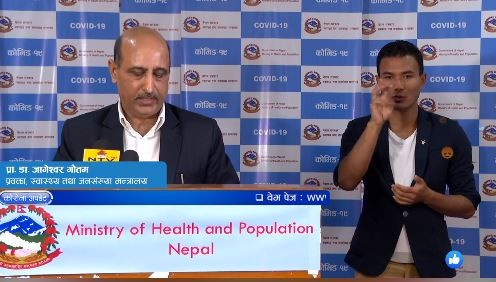 Kathmandu / Dec. 20: With 588 new cases of novel coronavirus confirmed on Sunday, the national COVID-19 tally has surged to 253,772.
"In 4,620 Real-Time Polymerase Chain Reaction (RT-PCR) tests done in the last 24 hours, as many as 588 persons were found to have been infected with SARS-CoV-2," informed Dr. Jageshwor Gautam, spokesperson of the Ministry of Health and Population (MoHP) in the daily press briefing.
Currently, there are 8,320 active cases of COVID-19 of which, 265 patients are admitted to the Intensive Care Unit (ICU) and 51 are receiving treatment with ventilator facility.
Meanwhile, 1,097 COVID-19 patients receiving treatment institutional isolation or staying in home isolation recovered from the infection in the last 24 hours. Nepal has now recorded 243,664 cases of recoveries.
A total of 11 people succumbed to the deadly virus in the last 24 hours and with this, the national COVID-19 related death tally has reached 1,788.
Kathmandu valley logs 238 cases on Sunday
The three districts of Kathmandu valley registered as many as 238 new cases of the coronavirus infection on Sunday.
Of the total 588 new cases in the country, Kathmandu district reported 179 infections while Lalitpur and Bhaktapur registered 33 and 26 infections respectively.
Of those newly infected in the valley, 100 are females while 138 are males.
Currently, there are 3,541 active infections in Kathmandu, 624 in Lalitpur, and 248 in Bhaktapur. The total number of active cases throughout Nepal, as of today, is 8,320.
So far, 454 fatalities from Covid-19 have been reported in Kathmandu, 97 in Bhaktapur, and 142 in Lalitpur. The nationwide death-toll has advanced to 1,788.
Meanwhile, a total of 90,679 people have recovered from the infection in Kathmandu while 14,028 have recovered in Lalitpur, and 8,298 in Bhaktapur.
Kathmandu and Lalitpur are the two districts to have over 500 active cases. Likewise, Manang and Mugu are the districts with zero live infections at present.