President Bhandari administers oath of office and secrecy to newly-appointed ministers
December 25, 2020 | 8:45 pm&nbsp&nbsp&nbsp&nbsp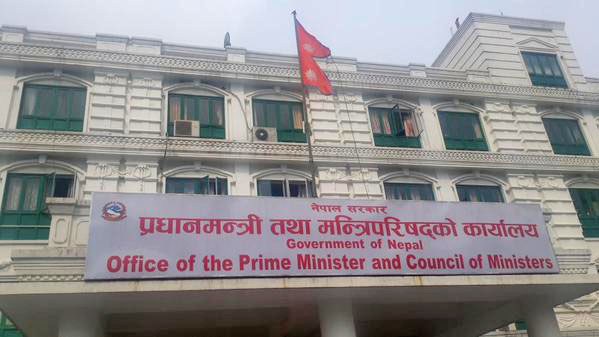 Kathmandu / Dec 25: President Bidya Devi Bhandari has administered oath of office and secrecy to eight newly-appointed ministers amidst a special function held at the Shital Niwas Friday evening.
In the first cabinet reshuffle made after the dissolution of the House of Representatives (HoR) last week, Prime Minister has relieved one minister and one state minister from their respective ministerial portfolios and inducted nine new faces in his cabinet. The prime minister has also made a massive reshuffle in the ministerial portfolios of the incumbent ministers.
The newly-appointed ministers include Top Bahadur Rayamajhi as Minister for Energy, Mani Thapa as Minister for Water Supply, Prabhu Sah as Minister for Urban Development and Prem Ale as Minister for Forest and Soil Conservation. Similarly, Ganesh Thagunna has been appointed as Minister for General Administration, Gauri Shanker Chaudhary as Minister of Labor and Employment and Julie Kumari Mahato as Minister for Women, Children and Senior Citizens.
In the cabinet reshuffle, Minister for Youths and Sports Jagat Bishwakarma and State Minister for Industry Modi Dugar have been relieved from the post. While Dawa Lama has been appointed as the Minister for Youths and Sports, Bimala Bishwakarma has been appointed as State Minister for Industry.
Reshuffling the ministerial responsibility of incumbent ministers, Prime Minister Oli has appointed Krishna Gopal Shrestha as Minister for Education, Science and Technology, Hridayesh Tripathi as Minister for Health and Population, Shiva Maya Tumbahamphe as Minister for Land Management and Reforms, Padma Aryal as Minister for Agriculture and Livestock, Lila Nath Shrestha as Minister for Justice, Law, and Parliamentary Affairs, Banu Bhakta Dhakal as Minister for Culture, Tourism and Civil Aviation.
Altogether seven cabinet ministers close to Pushpa Kamal Dahal and Madhav Kumar Nepal had resigned from the ministerial posts following the move to dissolve the parliament.
Prime Minister Oli has called a cabinet meeting at 8 pm. All the newly-appointed ministers are also scheduled to join the cabinet meeting.