Deuba claims party unanimously opposes PM's move; RPPS holds demonstration demanding monarchy and Hindu state
December 26, 2020 | 8:20 pm&nbsp&nbsp&nbsp&nbsp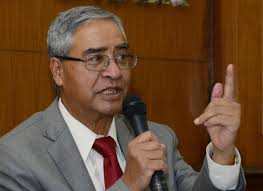 Kathmandu / Dec 26: Amidst reports that he supports the move of Prime Minister K P Oli to dissolve the House of Representatives (HoR), president of the main opposition party, Nepali Congress (NC), Sher Bahadur Deuba has said that the party leadership is unanimous over "the fact that the parliament dissolution is unconstitutional and undemocratic.
Issuing a press statement on Saturday on the eve of the party's scheduled protest programs against the move of Prime Minister Oli to dissolve the lower house of the federal parliament, Deuba has claimed that the party unitedly stands against the dissolution of parliament. He has, however, not mentioned anything if NC stands in favor of the reinstatement of the dissolved parliament.
NC is staging protest programs against the dissolution of the lower house of the federal parliament across all 165 electoral constituencies of the federal parliament on Monday. Party insiders said Deuba wants to wait until the final verdict of the Supreme Court on the dissolution of parliament and the decision of the Election Commission to grant formal recognition to one of the two factions within the Nepal Communist party, while rival faction leader Ram Chandra Paudel wants to hit the streets right away, terming the prime minister's move unconstitutional.
President Deuba has urged the party rank and file to participate in the protest rallies that the party is organizing on Monday in 165 election constituencies against the dissolution of the federal parliament. He has maintained that the party has already concluded that the move of the prime minister to dissolve parliament is unconstitutional and undemocratic and goes against the spirit of the people's mandates.
During the Central Working Committee (CWC) meeting on Friday, Deuba had asked party leaders not to talk about the dissolution of parliament as this was a sub judice case. The remarks had courted serious controversy as a section of people alleged that Deuba was supporting Oli's unconstitutional move.
RPP holds mass demonstration demanding restoration of monarchy, Hindu state
Rastriya Prajatantra Party (RPP) held a mass demonstration in Kathmandu on Saturday demanding the restoration of monarchy and Hindu state.
The protest march that started from Babar Mahal went past Thapathali, Tripureshwar and Sundhara and converged into a corner assembly at Durbar Marg.
Party leaders including chairmen duo Kamal Thapa and Prakash Chandra Lohani are addressing the program, according to RPP leader Rajaram Bartaula.
The party is also submitting a memorandum to all district administration offices across the country on Sunday.