659 COVID-19 cases, 718 recoveries and seven fatalities in 24 hours
December 28, 2020 | 10:16 pm&nbsp&nbsp&nbsp&nbsp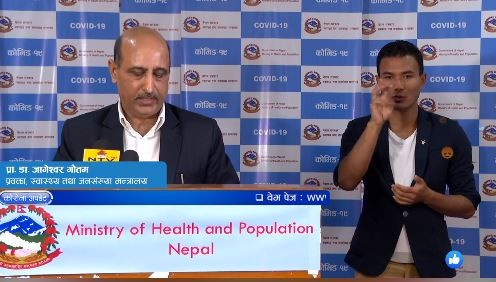 Kathmandu / Dec. 28: With 659 new cases of novel coronavirus confirmed on Monday, the national COVID-19 tally has surged to 258,840.
"In 5,578 Real-Time Polymerase Chain Reaction (RT-PCR) tests done in the last 24 hours, as many as 659 persons, 252 females and 407 males were found to have been infected with SARS-CoV-2," informed the Ministry of Health and Population (MoHP) in its daily update.
Currently, there are 6,427 active cases of COVID-19, of which 3,022 patients are receiving treatment in institutional isolation and 3,405 are in home isolation.
A total of 254 are admitted to the Intensive Care Unit (ICU) and 40 are receiving treatment with ventilator facility.
A total of 369 persons, mostly those who had returned from abroad, are placed in quarantine.
Meanwhile, 718 COVID-19 patients receiving treatment institutional isolation or staying in home isolation recovered from the infection in the last 24 hours. Nepal has now recorded 250,581 cases of recoveries and the recovery rate has reached 96.8 per cent.
A total of seven people succumbed to the deadly virus in the last 24 hours and with this, the national COVID-19 related death tally has reached 1,832.
Kathmandu valley records 278 new cases of Covid-19 on Monday
The three districts of Kathmandu valley reported as many as 278 new cases of the coronavirus infection on Monday.
Of the total 659 new cases in the country, Kathmandu district reported 207 infections while Lalitpur and Bhaktapur registered 49 and 22 infections respectively.
Of those newly infected in the valley, 111 are females while 167 are males.
Currently, there are 2,823 active infections in Kathmandu, 389 in Lalitpur, and 154 in Bhaktapur. The total number of active cases throughout Nepal, as of today, is 6,427.
So far, 466 fatalities from Covid-19 have been reported in Kathmandu, 98 in Bhaktapur, and 145 in Lalitpur. The nationwide death-toll has advanced to 1,832.
A total of 93,172 people have recovered from the infection in Kathmandu while 14,583 have recovered in Lalitpur and 8,551 in Bhaktapur.
Kathmandu alone remains the district to have over 500 active cases. Meanwhile, Mahottari, Sarlahi, Siraha, Mugu and Rukum West are the five districts with zero live infections at present.