India visit not desirable at present; Terai-Madhes problems to be settled politically: PM Oli
January 26, 2016 | 9:40 pm&nbsp&nbsp&nbsp&nbsp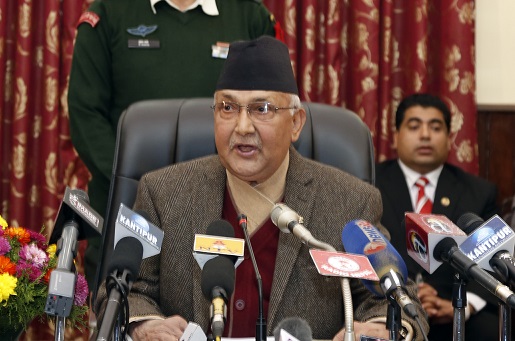 Kathmandu / January 26: Prime Minister KP Sharma Oli has said it was not desirable for him to visit India till normalcy returns in the country.
Talking to editors of various daily newspapers and senior journalists at his residence Baluwatar on Tuesday, PM Oli reiterated that he would visit India only after the present unusual condition caused by unofficial blockade and obstruction of supply ends.
He expressed confidence that Nepali Congress would join the present government. "NC was together while promulgating constitution; it would not have remained out of the government. So, it will join the government soon."
Similarly, the PM said Nepali is not the enemy of any country. The blockade imposed without announcement will end unannounced, he hoped.
"With good faith, I'm say, the blockade will end within one to two days," he reiterated.
The PM however said the obstruction in the supply of goods was created even before he became PM. The government was committed to making the country sovereign and developing, he said, expressing concern why his views on development plans and activities were branded cockamamie.
According to him, the separatist views were being brewed in the country. "Violence is unacceptable in democracy. Now, it is time for development, we must not waste time," he urged all. RSS
Meanwhile, in his meeting with a delegation led by Chief Commissioner of National Human Rights Commission Anup Raj Sharma, PM Oli reiterated that the problems prevailing in Terai-Madhes would be addressed through political measure.
The government is committed to implement the recommendations made by the constitutional human rights body from time to time, he said while pointing out the need to make the Commission further effective in coming days.
Noting that the government has placed on the protection of earthquake survivors' right to residence, conflict victim's right to justice and women rights, he said all sides should lend their support in realizing the protection of respective rights of all citizens.
The Prime Minister suggested the Commission coming up with proactive measures to make public aware on their rights at grassroots level and thereby developing a culture of human rights.
The NHRC drew the Prime Minister's attention over the killings of general public and security personnel in course of agitation continued in Terai-Madhes since long and breaching of the citizens' right to life with freedom.
On the occasion, NHRC Chair Sharma briefed the Prime Minister about the works being carried out in the defense of human rights by holding separate consultations with the government and agitating United Democratic Madhesi Front. He noted that the Terai-Madhes unrest should not be prolonged anymore.
Sharma apprised the prime minister of current human rights status of the country, Terai-Madhes based unrest, post-earthquake pathetic situation, effects on economic, social and cultural rights from continued agitation and effectiveness of national plan of action on human rights. RSS