Dalit Commission holds interaction on caste discrimination
April 19, 2016 | 10:01 am&nbsp&nbsp&nbsp&nbsp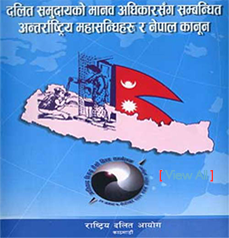 Kalaiya / April 19: National Dalit Commission on Monday organized an interaction on the effective implementation of the Caste Based Discrimination and Untouchability (Offense and Punishment) Act-2068 BS.
At the programme, lawmaker Radhe Chandra Roy Yadav said that the Nepal's Constitution has provided equal rights to all castes ending the prevalence of caste-based discrimination and untouchability.
Likewise, Programme Coordinator at National Dalit Commission Nirajan Nepali presented a working paper on 'Legal Arrangements of Caste Based Discrimination and Untouchability Act-2068 BS, challenges for its implementation and present course of the National Dalit Commission'.
The programme was presided over by National Dalit Commission's member Bangali Hazara. Representatives from major political parties, journalists, Dalit organizations and local organizations took part in the deliberations. RSS