Nepal Gazette now also available in website
April 19, 2016 | 9:04 pm&nbsp&nbsp&nbsp&nbsp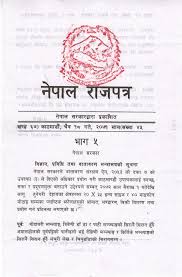 Kathmandu / April 19: The Nepal Gazette, official government journal, is now also available in the website. The government gazettes published since 2008 to 2070 BS have been put on website.
One can access the gazette of their choice at www.gop.gov.np. The Department of Printing has kept 120,000 copies of the Nepal Gazette from 7 August 1951 to 13 April 2014 in the website.
Minister for Information and Communications Sherdhan Rai, launching the website amidst a function organised by the Department here today, said that the initiation of the website would help further the government's concept of rendering all the government offices 'paperless'.
"Works like printing of passports, citizenship should now be done within the country through the Department of Printing," he said, adding that the government was geared towards making the Department well-equipped in the coming days to enable it to carry out security print works as well.
Ministry secretary Dinesh Kumar Thapaliya urged one and all to now devote the time which they used to spend in the past in searching for the Gazette and making notes from it to nation building.
Chairman of teh Administrative Court Kashi Raj Dahal said the publication of the Nepal Gazette was started as per the concept of making public the information related to the government's decisions and works in a transparent and authentic manner. He called on the Department to enhance the skills of its employees now.
Secretary at the National Planning Commission (NPC), Suresh Man Shrestha said that the NPC has been making public its policies and plans through the website and it was in the process of archiving the 14th National Plan.
Director General at the Department Shankar Aryal highlighted the importance of the Gazette in informing the people about the different Acts and Regulations as well as the important government notices and hoped the website would be useful to that end. RSS