Former President visits Kanak Mani Dixit; FNJ questions investigation process
April 26, 2016 | 9:06 pm&nbsp&nbsp&nbsp&nbsp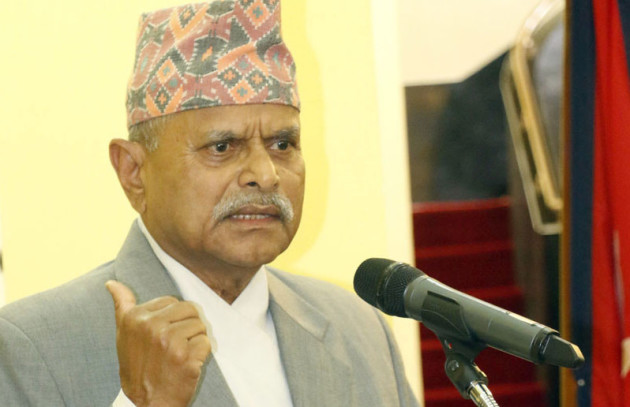 Kathmandu / April 26: Former President Ram Baran Yadav has visited journalist Kanak Mani Dixit, who was undergoing treatment at the Bir Hospital under the detention of the Commission for the Investigation of Abuse of Authority.
Dixit was detained by the anti-corruption constitutional watchdog on last Friday reportedly to probe into corruption allegations filed against him. After he witnessed some health issues, Dixit was admitted at the Bir Hospital the next day.
After the arrest, the Commission has been facing a backlash from various quarters of life and the media that the arrest was guided by the personal hostility between Dixit and the Commission chief Lokman Singh Karki.
Meanwhile, Federation of Nepali Journalists (FNJ) has raised doubts over the investigation process being carried out by the Commission for the Investigation of Abuse of Authority (CIAA) against journalist and Sajha Yatayat Chairman Dixit.
In a statement on Tuesday, FNJ General Secretary Dhruba Lamsal said the umbrella body of Nepali journalists has been keeping a close tabs on the arrest of journo Dixit and said the investigation process was doubtful. "The series of events in this episode: the arrest of Dixit, subsequent action, the delay in initiating the judicial process, and the attempt by the investigating body itself to accuse the entire press fraternity, shows that the investigation process is not of ordinary nature," read the statement.
Stating that the FNJ praises the execution of duty by a constitutional body while remaining within its scope, the umbrella body of journalists has taken a serious exception to the arrest of journalist Dixit as the chairman of Sajha Yatayat for investigation, and the subsequent events.
The FNJ has also expressed its concern over the health condition of journalist Dixit and urged the CIAA to take into account the overall circumstances and seriousness of the issue in this episode.