NC president Deuba and Speaker Gharti hold meeting
April 29, 2016 | 7:28 pm&nbsp&nbsp&nbsp&nbsp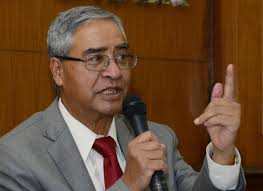 Kathmandu / April 29: President of the Nepali Congress, the main opposition party in parliament, Sher Bahadur Deuba and Speaker Onsari Gharti have held discussions on forging consensus for the passage of the parliament regulation.
Chief Whip of the Nepali Congress Chinkaji Shrestha told reporters that party president Deuba and Speaker Gharti held discussions at the former's residence at Budhanilkantha on forging consensus regarding the passage of the parliament regulations.
The parliament regulations inevitable for running the parliament business has not been passed due to the sparring between the ruling and the opposition parties, affecting the parliament's functioning and activities.
The appointments to various constitutional bodies has been stalled as the two sides failed to agree on the composition of the Parliamentary Hearing Special Committee to be formed in line with the regulations in accordance with the new constitution.
In the meeting, the NC had argued that like the other parliamentary committees, the Parliamentary Special Hearing Committee too should be transformed into one of the committees of the Legislature-Parliament as per the transitional provision until all the structures provided for in the new constitution were formed.
Speaker Gharti urged the top leaders of the major parties for making prompt agreement regarding passing the parliament regulations.
Shrestha said that during the discussion Speaker Gharti urged president Deuba to take the initiatives for forging agreement on the regulations as the budget session of the parliament was starting from May 3 and an action plan needed to be prepared for that purpose.
Regarding the Parliamentary Special Hearing Committee, the NC and some fringe parties have the stance that the existing committee should be continued whereas the ruling parties have been digging their heels that an efficient committee should be constituted as per the provision of the new constitution.
Speaker Gharti had separately met with Prime Minister and CPN (UML) chairman KP Sharma Oli and the UCPN (Maoist) chairman Pushpa Kamal Dahal on Thursday as part of her initiatives to forge consensus regarding the Parliament Regulation. RSS