Bandh affects life; 76 bandh-enforcers arrested; Bandh-enforcers torch jeep in Sindhuli
November 13, 2016 | 12:00 pm&nbsp&nbsp&nbsp&nbsp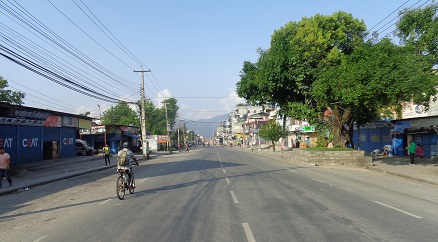 Kathmandu / Nov 13: The countrywide bandh (general strike) called by the Netra Bikram Chand –led CPN (Maoist) has affected normal life across the country including capital. It is said the bandh has been announced by the CPN (Maoist) calling for ensuring food security.
Only a few public transport vehicles are seen plying the capital's roads. However, vehicles with private number plates are operating more in numbers. Shops and businesses are mostly closed.
Schools, colleges and educational institutes are also closed. Although there is no significant presence of the bandh-enforcers on the streets, the bandh has taken hold.
76 bandh-enforcers arrested
Meanwhile, police has arrested 76 bandh-enforcers from various places of Kathmandu in connection to the general strike. Superintendent of Police Pradyumna Karki, the spokesman of the Metropolitan Police Range, Kathmandu said the arrests were made in Kalanki, Koteshwar, Maharajgunj and Chabahil among places.
Police have been instantly arresting the bandh-enforcers the moment they are seen on the streets.
Bandh-enforcers torch jeep in Sindhuli
Similarly, the bandh enforcers have torched a Bolero jeep at Chiyabari, Bhadrakali VDC-2 in the district this morning. The jeep was heading towards Siraha from Kathmandu.
The jeep has completely burnt, it is stated. Witnesses said a group of seven bandh-enforcers stopped the jeep and set it on fire for 'disobeying the bandh'. The jeep driver Ram Chandra Mahato said there were no passengers in the jeep.
Police said they are searching for the assailants and would apprehend them. Schools, colleges and shops in Sindhuli that had opened have closed after this incident. RSS