Massive Fire in Bhojur as gas cylinder goes off
November 20, 2016 | 11:28 pm&nbsp&nbsp&nbsp&nbsp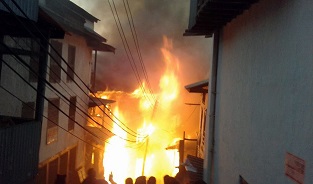 Sarita Rai (Bhojpur) / Nov 20: A massive fire broke out when a cooking gas cylinder exploded at Bhojpur bazaar, headquarters of Bhojpur district this evening.
The fire broke out from a local shop, Nilam Jewelers, Bhotepasal, at Bhojpur bazaar. Moreover than 15 adjoining houses have been burnt to ashes, said Radhan Parajuli, police inspector at District Police Office, adding the efforts were on to extinguish the fire.
A fire engine from Bhojpur municipality, locals, security persons from Nepal Police, Nepal Army, and Armed Police Force have been mobilized to tame the fire. However, the fire is growing wilder because of the gas cylinders in the houses, added the police.
It has been difficult to extinguish the fire also because the bazaar is quite congested. The houses are being demolished by dozers. The electricity supply has been cut at bazaar area. Water from drinking water pipes is being used to douse the fire. RSS