PM instructs topmost administrative body to accelerate post-quake drive
November 21, 2016 | 10:09 pm&nbsp&nbsp&nbsp&nbsp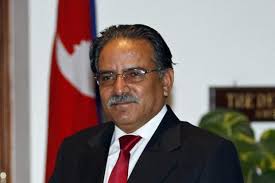 Kathmandu / Nov 21: Prime Minister Pushpa Kamal Dahal expressed his concern over what he said non-implementation of his past instructions meant for accelerating the post-earthquake works, and redirected the top bureaucracy for so.
During his meeting today with Chief Secretary Dr Somlal Subedi and other government secretaries at the Office of Prime Minister and Council of Ministers, the PM strongly instructed them for working in such a way that can yield positive results in the livelihood of the people.
Earlier on August 7, the PM directed the highest bureaucracy to come up with the immediate reform action plan bearing in mind the budget and government policy and programme.
The government said that the effective enforcement of the constitution, post-quake reconstruction efforts and the formulation of electoral laws are its focus.
Prime Minister Dahal's administrative advisor Narayan Dahal briefed media about the PM's meeting with the topmost bureaucrats and instructions he gave them.
The people's expectations to see a noticeable progress in the reconstruction drive remained unmet, he said, pledging his all possible support to expedite the drive. The PM said he would supervise the implementation of his directions.
With his appointment on the post of prime minister, Dahal directed the authorities concerned to distribute the quake grants to construct shelter to the survivors within the next 45 days and send health professionals to the rural areas within the next three months to ensure the delivery of basic health facilities to the needy. RSS