Development partners pledge to support reconstruction action plan
December 8, 2016 | 1:18 am&nbsp&nbsp&nbsp&nbsp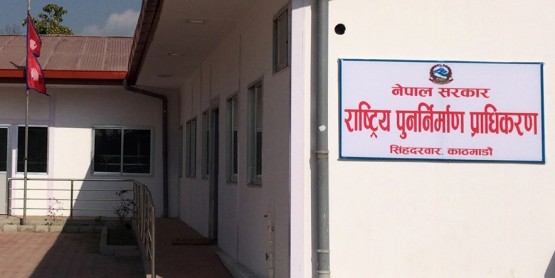 Kathmandu / Dec 7: Development partners have pledged to provide support to the possible extent for the post-earthquake reconstruction of Nepal.
The commitment was made at Wednesday's joint meeting held among the representatives of National Reconstruction Authority (NRA), Central Project Implementation Unit and development partners for the implementation of the reconstruction plan of action prepared by NRA Development Cooperation Coordination and Facilitation Committee.
The meeting has decided that the different development partners would mobilize aid at optimum level from their end to advance the reconstruction plan of action.
NRA Spokesperson Ram Prasad Thapaliya shared that the development partners have demanded to take ahead the implementation in a way to mobilize the budget of reconstruction fund instituted at NRA in line with NRA Act and decision of NRA's Directive Committee.
On the occasion, NRA Chief Executive Officer Sushil Gyawali shared the work progress and challenges faced so far during the post-earthquake reconstruction.
The meeting has also recommended clear plans for the mobilization of financial resources required for the accomplishment of reconstruction works as per the outline of the five-year plan on reconstruction.
The partners have pledged to support the preparation of the plan in collaboration with the government and the NRA. RSS