Passport renewal fee to be reduced: PM
January 15, 2017 | 10:41 pm&nbsp&nbsp&nbsp&nbsp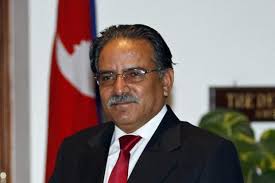 Kathmandu / Jan 15: Prime Minister Pushpa Kamal Dahal has said the experience and the capital earned by Nepalis working abroad is the foundation for the country's development.
PM Dahal, who is in the United Arab Emirates in connection with participating in the '10th World Future Energy Summit', said this while speaking in an interaction organized by the Nepali Embassy in Abu Dhabi.
The PM reiterated that the government was aware that the earning made by the Nepali workers through hard labor abroad should be properly utilized.
The Prime Minister stated that the government has emphasized on constitution implementation on political level and on infrastructure construction and prosperity at the economic level, the PM's private secretariat stated. PM Dahal also expressed the government's commitment to constitution implementation by forging national consensus.
On the Energy Summit, the Prime Minister said, "We have tried to channelize the capital that has been generated from foreign employment towards development projects; I have been monitoring the development projects keeping the development works at the center."
Stating that the government has been working on important issues as blood money and reducing the passport renewal fees, among others, PM Dahal said the government was vigorously engaged in addressing the problems of the Nepalis who are working and living abroad through diplomatic and political manner, according to the PM's secretariat.
Minister for Energy Janardan Sharma, Foreign Secretary Shankerdas Bairagi, Nepal's Charge de' Affaires to UAE, Netra Bahadur Tandon, Chief of Protocol Deepak Adhikari among other officials were also present in the interaction. RSS