WB to provide Rs 16.371 b loan for digitization of civil registration
January 23, 2017 | 10:37 pm&nbsp&nbsp&nbsp&nbsp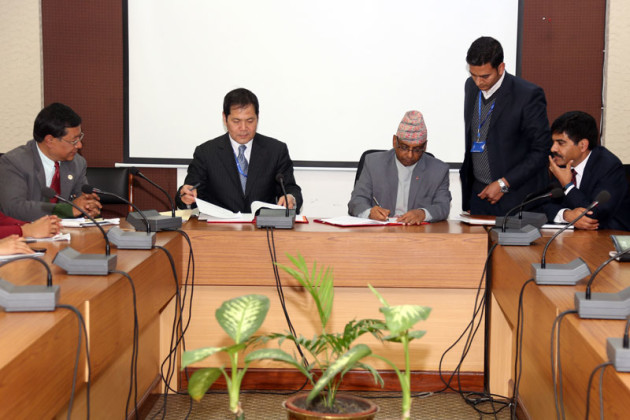 Kathmandu / Jan 23: The World Bank has agreed to provide loan assistance worth Rs 16.371 billion to Nepal to support in digitalization of civil registration records under the Strengthening Systems for Social Protection and Civil Registration.
An agreement was signed to this effect between Dr Shantaraj Subedi, Secretary at the Ministry of Finance (MoF), and Takuya Kamata, Country Manager, World Bank, at MoF at Singha Durbar today.
Secretary Dr Subedi expressed his confidence that the digitization of civil registration that includes registration of vital events such as birth, marriage, migration, divorce and death, would streamline the social security programs of the government as he added it would ensure delivery of social security allowances to public through e-payment.
World Bank's Country Manager Kamata shared that the implementation of the government's five-year project would enable the automation of civil registration and security distribution which could be managed more efficiently and by limited human recourses.
Director General at the Department of Civil Registration, Anil Kumar Thakur, said that the Department would collect detailed information about the people's birth, death, marriage, divorce and migration from all the VDCs and municipalities across the country and would develop basic infrastructures and produce human resources for digitization of the detailed information.
He said, the record keeping of vital events such as birth, death, marriage, divorce and migration has been initiated in the local bodies since 1978. Digitization of such vital events would assist in information management."
The Department is currently doing ground work for the project for developing basic infrastructures and management of human resources to being into effect the digitization project. RSS