NAC to bring two aircraft from China by Saturday
January 24, 2017 | 11:06 pm&nbsp&nbsp&nbsp&nbsp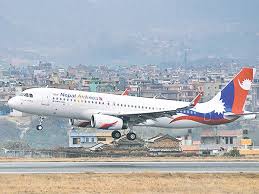 Kathmandu / Jan 24: The two aircraft the national flag carrier, Nepal Airlines Corporation, received in loan assistance from China are to be brought here by coming Saturday.
The Chinese side has already expressed commitments in writing with the NAC regarding the supply of spare parts and other technical issues, according to NAC General Manager Sugat Ratna Kansakar.
The 56-seater MA 60 and the 18-seater Y 12 aircraft are expected to land in the capital by coming January 28. The first aircraft will conduct flights to Tarai regions and the second one to destinations in the hilly areas.
Technical problems were seen on two aircraft provided by the Chinese side to NAC in grant assistance. Bearing this in mind, this time the Chinese side has agreed to supply aircraft spare parts to the capital itself for the two aircraft the NAC is getting in loan assistance.
Similarly, the NAC is busy doing homework for preliminary agreement with the American Company AAR Corporation for international flights. The preliminary agreement is likely to be signed within a week, according to Kansakar. RSS