Bereaved families of migrant workers to get Rs 2.7mln
January 24, 2017 | 11:07 pm&nbsp&nbsp&nbsp&nbsp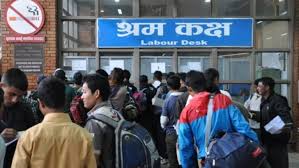 Kathmandu / Jan 24: Prime Minister Pushpa Kamal Dahal said the bereaved families of migrant workers, who would lose their life during the foreign employment, would be provided with up to Rs 2.7 million as temporary life insurance. Earlier, victims' families used to receive Rs 1.8 million only.
In a press conference on Tuesday, PM Dahal said that the insurance amount would be increased from the temporary (foreign employment) life insurance and welfare fund.
In case of 15 different diseases as kidney failure and cancer that causes death, a new provision has been made to provide Rs 0.5 million more.
With this provision which would be effective from January 28, the workers can get Rs 2 million from the concerned insurance companies.
The amount generated from the foreign job aspirants through the Foreign Employment Promotion Board goes to the welfare fund.
"Efforts are on to amend the Foreign Employment Regulation 2064 to increase the amount that the family and the victim get from the welfare fund from current Rs 300,000 to Rs 700,000," informed PM Dahal.
Even the mental problems would be categorised as fatal disease, he said, adding that the Nepali migrant workers would be compensated if they suffered from mental diseases while on job. The Beema Samiti has been directed to make appropriate arrangments to this effect, according to him.
Similarly, the Prime Minister has directed the Labour and Employment Ministry to make due compensation to the workers who were sound before leaving Nepal for foreing job but were found to be suffering from health problems abroad.
The PM also shared other improvements on rights of Nepali youth opting for foreign employment as request for commuting jail term, bringing the dead body from South Korea.
Work in India recognised as foreign employment
At the press meet, Prime Minister Dahal said people going to work in India also would be recognised as involved in foreign employment. And all adult citizens going to India for work will have mandatory insurance coverage.
As per the new provision, the Prime Minister said that those going for employment in India would also be entitled to insurance coverage worth Rs 1.4 million including for fatal diseases, life insurance and support from the foreign employment promotion board.
To avail of the facility, people going for work to India should acquire work permit from the concerned District Administration Offices or the DAOs of the bordering district.
Next cabinet meeting to appoint ambassadors
At the press meet, Prime Minister Dahal also shared that the next meeting of the Council of Ministers would take a decision on the appointment of ambassadors to fill up the remaining vacancies. The appointment is being prioritised also in consideration of the benefit it would have for Nepali migrant workers.
Also speaking on the occasion, Foreign Minister Dr Prakash Sharan Mahat shared that the government was communicating with the Malaysian government on the reports that some agencies were illegally fleecing Nepali workers going to Malaysia.
Similarly, Minister of State for Labour and Employment Surya Man Gurung, Secretary at the Ministry Laxman Prasad Mainali, among others were also present on the occasion.RSS