Group of Honorary Consuls and Consul Generals pay courtesy call on Prez Bhandari
January 25, 2017 | 11:28 pm&nbsp&nbsp&nbsp&nbsp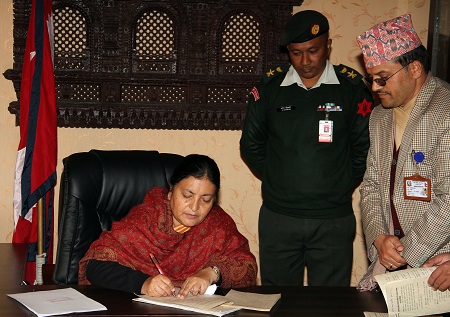 Kathmandu / Jan 25: A group of Honorary Consuls and Consul Generals paid a courtesy call on President Bidya Devi Bhandari.
During the meeting held at Rastrapati Bhawan, Sheetal Niwas, on Wednesday, Dean Shreeram Lamichhane from the group of the Honorary Consuls and other Consul Generals familiarized President Bhandari about their activities.
On the occasion, President Bhandari urged them to be devoted in increasing Nepal and Nepali's pride by further strengthening social, economic and cultural relations between Nepal and concerned countries.
She also requested them to work as a bridge between Nepal and the concerned countries for various purposes including increasing technical investment.
Out of 40 Honorary Consuls and Consul Generals, 23 including Shreeram Lamichhane (Luxemburg), Ambika Shrestha (Spain), Gajendra Bahadur Shrestha (Sweden), Rajendra Khetan (Portugal), Kiran Baidya (Ukraine), Rajesh Kaji Shrestha (Vietnam), among others were present on the occasion.
Thapa appointed as Non-Resident Ambassador to Netherlands
President Bhandari appointed Lok Bahadur Thapa as Non-Resident Ambassador to Netherlands.
President Bhandari appointed Thapa as the Non-Resident Ambassador as per the recommendation of Cabinet in line with the constitution, stated a press release issued Wednesday by Kul Prasad Chudal, Spokesperson at the Office of the President. RSS