Caste-based discrimination unendurable for govt, PM says
January 31, 2017 | 11:07 pm&nbsp&nbsp&nbsp&nbsp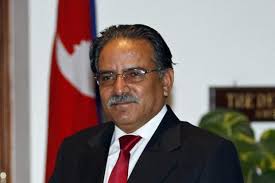 Kathmandu / Jan 31: Prime Minister Pushpa Kamal Dahal 'Prachanda' has said the government was working with full dedication to addressing political, social and cultural problems facing the Dalit community since long.
During his meeting with a delegation of National Dalit Liberation Front at his official residence Baluwatar today, the PM said no discrimination to take place on the basis of caste, colour and gender is tolerable for the government. On the occasion, the two sides discussed the Dalit rights and exchanged views on government activities.
It was a great achievement for us that the Dalit Commission was granted the status of a constitutional body, he said, pledging to make up the Neglected, Suppressed and Dalit Upliftment Development Committee working in the welfare of the dalits more active.
Stating that the government had initiated investigations into the murder cases of Laxmi Pariyar and Ajit Mijar, he pledged to book the guilty and provide proper compensation to the victims' families.
A probe committee headed by Youth and Sports Minister Daljeet Sripaili is already in place to look after the cases, he said, adding that the government was waiting for the committee report to start a process of action against the perpetrators, according to CPN (Maoist Centre) parliamentary party whip Sita Nepali, who was also present in the meeting.
On the occasion, the delegation submitted a memorandum to the PM, calling on to bring the guilty in the murders of Pariyar and Mijar to book and provide the victims' families with proper compensation.
CPN (Maoist Centre)'s central member Tilak Pariyar headed the delegation which also requested the head of the government not to scrap the Dalit Development Committee.
The memorandum has suggested a stern and effective law against the practice of caste-based discrimination against Dalits. RSS