Economic prosperity is the path ahead: President Bhandari
January 31, 2017 | 11:07 pm&nbsp&nbsp&nbsp&nbsp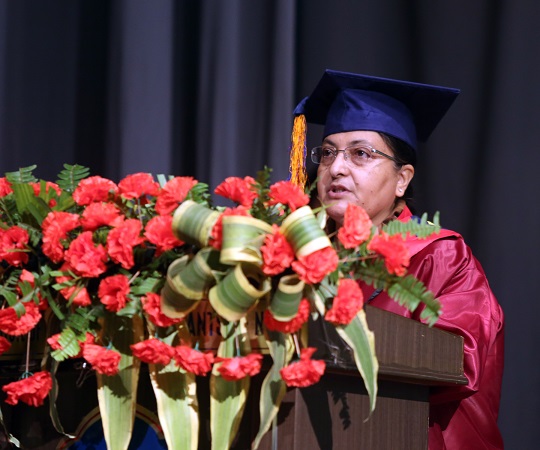 Kathmandu / Jan 31: President Bidya Devi Bhandari today said the path ahead is towards economic prosperity of the country with the political transition already coming to an end following the promulgation of the constitution last year.
Addressing the fist convocation of Nepal Chartered Accountants here today, President Bhandari viewed that it is the need for the country to fulfill increasing aspiration of the people and institutionalise achievements made in the past.
She also stressed the need for the country to prioritise rapid socio-economic transformation.
"It is the need of the hour to channelise natural, intellectual and physical resources in an effective way and utilize external capital, skills and technology," she said.
Acknowledging the role of auditors of the country in a variety of economic-related activities including in preparing a financial report used to help prepare country's annual budget, she urged them to work for the welfare of the community, society and the country while sticking to their professional ethics, responsibility and duty.
The President also recognised the role of CAs in ensuring returns for investment, making conducive environment for investment and making the tax system of the country transparent and effective.
Also on the occasion, Education Minister Dhani Ram Poudel underscored the need for CAs for maintaining professional integrity to make additional achievements while praising 'country's remarkable progress in auditing sector'.
Vice Chancellor of Pokhara University Prof Chiranjibi Prasad Sharma emphasised the need for heightening the prestige of auditing profession by making it reliable while recognising the role of CAs in the age of globalization.
At the event, President Bhandari handed out certificates to 329 CA graduates. RSS