Oregon package thief leaves behind 'thank you' note
April 1, 2017 | 1:04 pm&nbsp&nbsp&nbsp&nbsp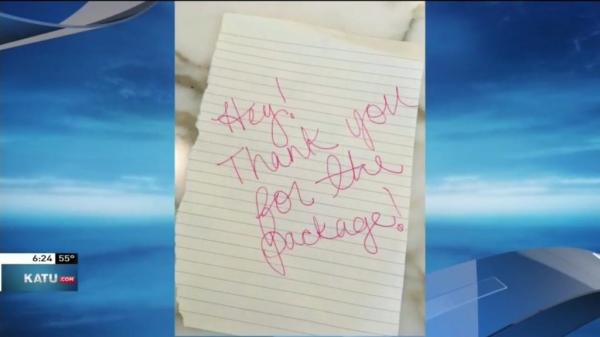 Apr. 01: An Oregon woman said a thief who snatched a package from her porch left two things behind: a "thank you" note and video of her face.
Mair Blatt said she was at lunch Monday when she received a notification on her phone from her Ring Video Doorbell, which was set to alert her if anyone approached her porch.
"My phone got a ping and I actually looked at the phone when it pinged and saw the image of this person coming up my stairs and I thought it was my neighbor," Blatt told KATU-TV.
She saw the woman appeared to be writing her a note, so she dismissed the notification, which stopped the video camera from recording.
Blatt said she only later discovered the woman was not her neighbor, and had apparently stolen a package delivered by UPS earlier in the day.
The thief left behind a handwritten note, which read: "Hey! Thank you for the package!"
Blatt said the recording stopped before the package was taken, but she is convinced the woman in the video is the thief. Police said the woman in the footage is considered the prime suspect in the incident.
Blatt said the package was a $17 bottle of hair oil, which the thief kept after opening the package around the corner from her house and abandoning the box in some bushes.
"The boldness of this gal to just walk through, broad daylight, right at noon and just come up and comfortably take someone's box, thank them for it, rip it open and then litter in my neighborhood," Blatt said.
Jamie Siminoff, founder and chief inventor at Ring, said the company is coming out with an upgraded version of Blatt's doorbell that would add the ability for homeowners to speak to the people picked up on the camera via an intercom system that would be connected to their phones.
"Criminals don't look like criminals, they look like normal people," Siminoff told USA Today. "They're selling magazines, raising money for school fund-raisers, they say. They find an empty area, come in and rob and work the area, even if there's an alarm system. Just being able to answer the door with your voice, that creates presence and scares them away." Upi.com