No agreement on polls, Yadav claims; Gathabandhan postpones all protest programmes
April 23, 2017 | 9:25 pm&nbsp&nbsp&nbsp&nbsp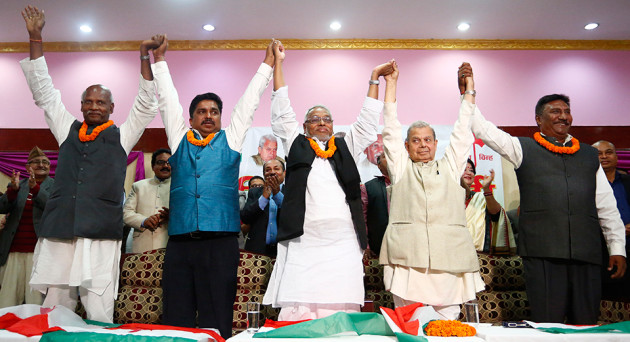 Biratnagar / Apr. 23: Chairman of Federal Socialist Forum Nepal, Upendra Yadav, said that no agreement was held between the government and the Madheshi Front regarding the local level polls.
Addressing a protest rally in Biratnagar on Sunday, Yadav claimed that terror was created in media with the news regarding the agreement that was not made at all.
He also said that his party would not take part in election until the constitution was amended and the issues of national concerns were addressed.
On the occasion, Chairman of Rastriya Janata Party Mahantha Thakur said that the Madhes-centric parties were not against the polls, but it was the government's duty to create environment conducive for it.
He said that the issues agreed on Saturday should be implemented for the polls.
Likewise, Chairman of Federal Limbuwan National Forum Kumar Lingden said that the Madhesi, Limbuwan, Tamsaling and all should unite for ensuring their rights.
During the programme, leaders Dr Surendra Jha, Dilip Dhapewa, lawmaker Usha Yadav and others expressed their views for the unity of agitating parties.
Gathabandhan postpones all protest programmes
Meanwhile, Sanghiya Gathabandhan has postponed all its protest programmes until the endorsement of constitution amendment bill.
A meeting of Gathabandhan held at Tinkune on Sunday took this decision saying that the agreement reached between ruling parties and Madhes-centric parties was a positive move.
Sanghiya Samajwadi Forum Co-chair Rajendra Shrestha said they withdrew protest programmes for now after government showed flexibility in addressing the demands raised by Madhes-centric parties.
Shrestha warned that they would launch fresh stir if government fails to address their demands through the amendment.