Revised amendment bill not in national interest, claims Oli; UML objects to decision on counting, budget
April 26, 2017 | 10:50 pm&nbsp&nbsp&nbsp&nbsp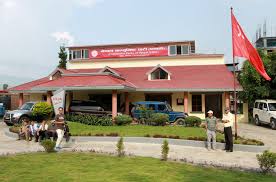 Kathmandu / Apr. 26: CPN (UML) Chair KP Sharma Oli has said the party was not backing the revised constitution amendment bill as it evaluated it as against the interests of the nation.
In his address to a programme organised in commemoration of the 18th memorial day of former Prime Minister Manmohan Adhikari by the Manmohan Memorial Foundation today, he said the revised constitution amendment proposal presented by the government in the parliament was more 'anti-nationalist' than the previous one and was capable of having a long-term impact.
He went on to say that some political parties who got ready to amend the constitution just for addressing their 'particular' interest should address the sentiments of the opposition.
"The government has moved back from its earlier decision of holding the local-level election in a single-phase on May 14. The election of a second-round must be conducted before the budget speech," he asserted. The former Prime Minister highlighted on the role and contribution of the late Adhikari in the restoration of democracy in the country and of India's liberation struggle as well.
Foundation chair Bharat Mohan Adhikari shed light on the late Adhikari's contribution to the development of politics at home and in India.
Party senior leader Jhalanath Khanal, leader Madhav Kumar Nepal and General Secretary Ishwor Pokhrel among others laid wreaths on a statue of the late Adhikari.
UML objects to decision on counting, budget
Meanwhile, the main opposition CPN-UML has objected to the Election Commission's decision to begin counting of votes soon after the first phase of local level elections and let the government present the fiscal budget before the second phase of election.
A delegation, led by UML's Parliamentary Party deputy leader Subas Nembang, on Wednesday called on Chief Election Commissioner Ayodhee Prasad Yadav and commissioners and drew their attention towards the potential influence that vote counting and budget would make on the elections that will be held in the second phase.
On the occasion, EC commissioners were asked to pay attention towards sensitivity, credibility and reliability of the elections.
The delegation expressed its disapproval to the government and EC decision to revise the election schedule and to conduct the elections in two phases with a 'long-gap' without consulting the party.
On the occasion, the delegation stressed on the EC's responsibility to maintaining credibility and impartiality of elections.
Stating that the party was geared up for the elections by respecting the earlier decision to hold the election in a single phase on May 14, the UML delegation dubbed the announcement to conduct elections in two phases abrupt and wrong.
Talking to media persons after the meeting, Nembang claimed that the government plan to announce the budget on May 29 between the two phases of elections would violate the election code of conduct.
A wave of election is sweeping across the country, he said, at this backdrop the proposal to increase the number of local levels will not be acceptable to the UML. RSS