Hold polls in single phase, withdraw NA mobilization: FSFN; Forum Nepal, Naya Shakti form election coordination panel
April 28, 2017 | 9:50 pm&nbsp&nbsp&nbsp&nbsp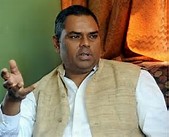 Kathmandu / Apr. 28:Federal Socialist Forum Nepal (FSFN) has demanded the government to hold the local level election in single phase and to withdraw the decision to mobilize Nepal Army in the security of upcoming local level elections.
Issuing a press release on Friday, the FSFN said that the result of the first phase could influence the voting in the second phase. "It would be appropriate to change the election dates and hold the elections in single phase. Thus we express serious reservation over the election program," stated FSFN Chairman Upendra Yadav.
Stating that conducting local elections by the federal government is against the principle of federalism, the FSFN has expressed dissatisfaction with the election process.
Likewise, the FSFN expressed serious concerns over the deployment of Nepal Army in the security of elections."Mobilization of a professional institution like Nepal Army, which has been maintaining pride and dignity since years' time, in home affairs in the name of elections could harm its professionalism," stated the press release.
"In this regard we express serious objection on the decision of deploying Nepal Army and strongly demand with the government to withdraw the decision," press release stated further.
Meanwhile, FSFN has also demanded that annual budget should be brought only after the local level elections.
FSFN has also demanded to complete the constitution amendment process to address the demand of Federal Alliance and the United Democratic Madhesi Front (UDMF) prior to the election.
Forum Nepal, Naya Shakti form election coordination panel
Similarly, the Federal Socialist Forum Nepal and Naya Shakti Party Nepal on Friday formed a joint election coordination mechanism.
The two parties that are holding negotiation for merger have already decided to contest the local level elections with the same election symbol — a hand holding a burning torch.
The mechanism comprises 12 members — six each from both the sides.