PM Deuba assumes office; Maiden cabinet meeting discusses priorities of govt
June 7, 2017 | 10:52 pm&nbsp&nbsp&nbsp&nbsp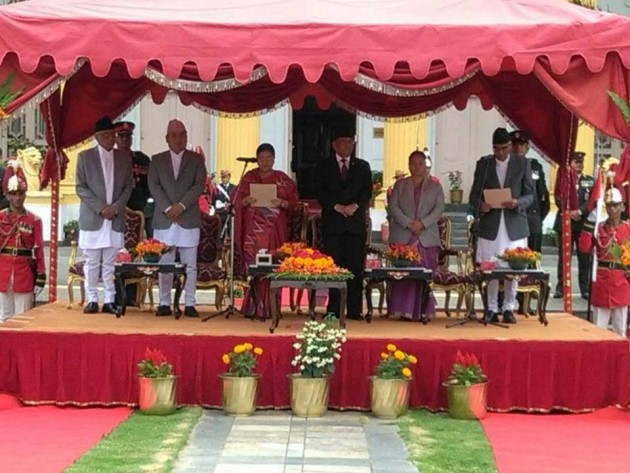 Kathmandu / June 7: Newly-elected Prime Minister Sher Bahadur Deuba has assumed office at Singha Durbar on Wednesday after taking oath of office and secrecy from the president earlier in the day.
He has formed a small cabinet with three deputy prime ministers and four other ministers from his own party Nepali Congress and the other major coalition partner CPN (Maoist Center).
Earlier, President Bidya Devi Bhandari administered oath of office and secrecy to Deuba amidst a special function in Sheetal Niwas.
With the swearing in ceremony, Deuba now has become the prime minister for the fourth time who secured 388 votes out of 593 votes in the parliament on Tuesday.
During the PM's voting, 170 lawmakers, mostly from CPN-UML, voted against him while as many as 35 abstained from the voting process.
Maiden cabinet meeting discusses priorities of govt
Meanwhile, following the swearing-in ceremony, the first cabinet meeting of newly elected Prime Minister Sher Bahadur Deuba-led government has discussed the list of priorities of the newly formed government.
Speaking to the media persons after the meeting, newly appointed Minister for Finance Gyanendra Bahadur Karki informed that the meeting discussed over the various issues including implementation of the constitution and management of transitional period and to hold the second phase of local level election in free and fair manner on slated time.
Likewise, in its maiden meeting, the Council of Ministers has discussed to hold the election of the federal parliament and provinces by January 2018, to speed up the reconstruction activities in effective way, to give importance for the economic prosperity, issue of security and to facilitate the supply of goods in effective way and to conclude the peace process among others, informed Minister Karki.
Following the cabinet meeting, the newly appointed ministers have assumed the office in respective ministries.