Nepalese women struggling for golden future in Abu Dhabi
June 9, 2017 | 9:52 pm&nbsp&nbsp&nbsp&nbsp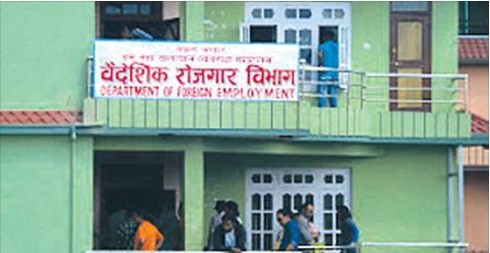 Dubai / June 9: The pain of Nepali migrant workers in foreign lands is not unknown to us. It is one of the burning issues to be resolved soon by the state mechanism but it has become a matter of story-telling.
Both male and female migrant workers have similar woes. The number of the youths going abroad has increased these days as youths are compelled to go abroad due to lack of employment in the country.
There was the tradition of only males going for abroad employment in the past. But breaking the tradition, women are also forced to go abroad for income. The Nepalese women these days have chosen Dubai as one of the main destinations for employment.
Around 300 Nepalese women are found working in Abu Dhabi as it is the transit point for going abroad. Of them, some are even found to have left their small kids back home and are struggling for their bright future in Abu Dhabi. Despite the agony of dislocation, women, are found busy in work with a smiling face.
A local of Murgiya, Rupandehi, Niru Pariyar is found busy in cleaning works in the Airport there. While meeting her there, she was happily singing a Nepali song as if she was enjoying works there. When this reporter asked her why she was there, she replied that she had planned to work in a beauty parlor as beautician but she did not have that chance so this job.
Similarly, another Nepalese worker Sangita has been there for six years to materialize her dream of a golden future after earning money to run the family properly. She explained that she had a lot of agony but is compelled to work there. When this scribe met her, she was suffering from headache and dizziness among other physical weaknesses, but she was working there. She was explaining bitter agony of being in foreign land as they could not take rest for long even when sick.
Likewise, a 30-year-old woman, who did not want to disclose her name, shared that women were in plural in number working in the Airport in comparison to males. She added that around 300 Nepalese women are working there.
Nepali women working at the airport enquire and ask about well-being of fellow Nepalis right at encounter with fellow Nepalis. They talk in Nepali and share their problems and happiness, although they are not allowed to talk with outsiders on the airport premises.
Female workers at the airport are well aware of the fact that females can understand and help address plights of their counterparts of the same gender.
Meet Merina Pradhan from Darjeeling in India, a cashier at the airport, who is always on hand to help female workers in need. "I look after my Nepali fellow workers, be it in the situations when they are ill or in problems as we do not have our family here except for each other to lend us support. So I feel it is my responsibility as well as a sense of humanity to help," said Pradhan, who has a Masters Degree in politics.
According to her, it is not easier to get a good job after earning a degree back home. "I do not have many ambitions in life. I came here two years ago. I am happy with whatever I have and am doing," she said.
It will be far easier to work in foreign land as our labours are recognised here and we women are paid handsomely, said a Nepali worker Netra Karki. RSS