Budget constraint behind delay in completing Tripureshwor-Nagdhunga project
June 16, 2017 | 10:06 pm&nbsp&nbsp&nbsp&nbsp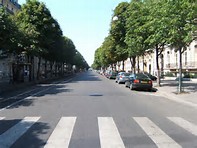 Kathmandu / Jun 16: Budget constraint has been cited as the main reason behind a delay in completing the 16- kilometers Tripureshwor-Nagdhunga road widening project.
Lack of cooperation among the government bodies has been blamed for triggering an adversity in regard with the implementation of the project. Structures lying along the both roadsides in multiple locations, which need to be demolished, are still standing tall thus hindering the implementation of project.
According to project Chief Deepak KC, electric and telephone poles remaining with in the area covered by the widening project are yet to be removed and the Department of Industry has not yet dismantled its Tripureshwor-based building. Department's General Director Shankar Aryal shared that they were facing the budget shortage to dismantle its building.
"The Department is not in the position of managing budget to demolish its building and has no objection if the project itself does it," Aryal added.
The Department vacated the building a week ago and shifted to the building owned by Cottage and Small Industries Development Committee.
The Department of Roads ( DoR) telling the same story said though it was obliged to manage the budget for removing electric poles that lie within the area covered by the project, it was currently unable to do this.
Besides this, the project has not been able to accelerate the widening works in some locations owing to Supreme Court's order ( stay order) to keep the Kathmandu Upatyaka Khanepani Limited's tank at Soaltee mode, Nepal's Telecom's underground cable of Nepal Telecom at Dhungeaddha, 184 houses along the roadside as it is.
The road will be widened to 22 meters from the existing 16 meters.
The project that started a year ago has seen no noticeable progress yet. The Office of Prime Minister and Council of Ministers today held a meeting among the authorities concerned including Kathmandu Valley Development Authority ( KVDA) , the DoR, NEA and the NT to discuss the issue.
KVDA development commissioner Dr Bhaikaji Tiwari, DoR Director General Gopal Sigdel , NEA Executive Director Kulman Ghising and NT Managing Director Kamini Raj Bhandari pledges to make efforts to clear the hurdles seen in the acceleration of the project.
The OPMCM Secretary Chandra Kumar Ghimire pledged to form a mechanism to seek as solution to the problems.
Locals have the complaints that a delay in the construction of project has really given them terrible experiences. Dust from the under-construction roads blankets their houses in winter while muddy roads in the summer make their surroundings dirty and movement tougher. RSS