Chinese assistant minister calls on PM Deuba; Nepal requests India to remove illegal structures from Lalita Ghat
June 21, 2017 | 9:59 pm&nbsp&nbsp&nbsp&nbsp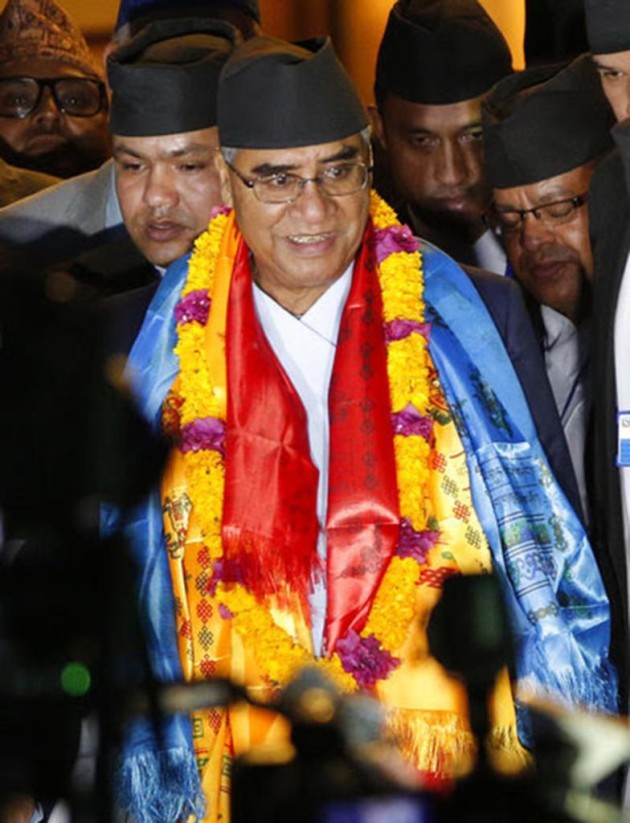 Kathmandu / June 21: Assistant Minister of the Ministry of Foreign Affairs of the People's Republic of China Kong Xuanyou paid a courtesy call on Prime Minister Sher Bahadur Deuba at the latter's office at Singhadurbar on Wednesday.
During the meeting, the duo talked about bilateral relations between China and Nepal.
Earlier, Mr. Kong also called on Deputy Prime Minister and Minister for Foreign Affairs Krishna Bahadur Mahara at the Ministry of Foreign Affairs, according to the Ministry of Foreign Affairs.
Deputy Prime Minister Mahara recalled his recent visit to Beijing to attend Belt and Road Initiative Forum for International Cooperation.
The Deputy Prime Minister referred to the conclusion of the Memorandum of Understandings on Cooperation under the Belt and Road Initiative and on the establishment of the Cross-Border Economic Zones between Nepal and China as important development in bilateral relations.
The Assistant Minister briefed the Prime Minister and the Deputy Prime Minister and Minister for Foreign Affairs on the outcomes of the 11th meeting of the Bilateral Consultation Mechanism held yesterday.
The Assistant Minister also expressed happiness on the fact that both sides have agreed to further deepen cooperation in the existing areas and explore the prospect for cooperation in new areas.
The Assistant Minister is returning to China tomorrow morning.
Nepal requests India to remove illegal structures from Lalita Ghat
In another incident, Nepal has raised with India the matter about illegally constructed structures within the Lalita Ghat premises in Varanasi and requested for intervention to remove such constructions.
It may be noted that Lalita Ghat premises is a Nepali property in Varanasi that include historical monuments built some 200 years before in Nepali style.
The matter was raised by Nepali Ambassador to India Deep Kumar Upadhyay in a meeting with Chief Minister of Uttar Pradesh Shri Yogi Adityanath in Lucknow earlier today, according to a statement issued by the Nepali Embassy in New Delhi.
On the occasion Chief Minister Yogi assured to help in resolving the matter.
Matters relating to various aspects of Nepal-India relations including culture, tourism, border infrastructure and connectivity, border administration, inundation and water management, among others were discussed during the meeting.
They also discussed establishing direct air connection between Kathmandu/Pokhara and Varanasi/Lucknow/Gorakhpur in addition to better connectivity of major cultural sites on both sides in a bid to promote to promote tourism. RSS