Identity central issue of Nepal's politics: Ashok Rai; Statute should be implemented with broader acceptability: DPM Gachhadar
June 24, 2017 | 10:36 pm&nbsp&nbsp&nbsp&nbsp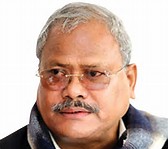 Dharan / Jun 24: Senior leader of the Federal Socialist Forum Nepal (FSFN) Ashok Rai said that the constitution has completely overlooked the identity even though it is the central issue of the current political gamut.
Addressing a mass meeting organized by a nine-party alliance including the CPN (Maoist Center) at Bhanuchowk in Dharan on Saturday, Rai said despite most of the political remained positive toward amendment the constitution, it hit a snag due to the obstructive role played by CPN-UML.
Meanwhile, Rai accused the UML of standing against the national unity and always remaining as a stumbling block to current political outlet.
"The central issue of the current politics is the identity which the constitution has completely ignored. The constitution should be amended to give an outlet to the current imbroglio," said Rai.
Meanwhile, Rai said that the constitution should respect and preserve all the nationalities, languages and cultures without discrimination.
Statute should be implemented with broader acceptability: DPM Gachhadar
Meanwhile, Deputy Prime Minister and Minister for Local Development Bijay Kumar Gachchhadar said the constitution could be implemented effectively by ensuring its broader acceptability.
According to him, its broader acceptability could be ensured with some amendments.
The DPM said this while talking to media persons here today. "The ruling parties and the opposition should forge agreement for the amendment of the constitution," he said, expressi0ng the belief that the leaders, cadres and the people loyal to Rastriya Janata Party would vote in the second round of election. RSS