One-horned rhino rescued unharmed from Indian village
August 18, 2017 | 9:19 pm&nbsp&nbsp&nbsp&nbsp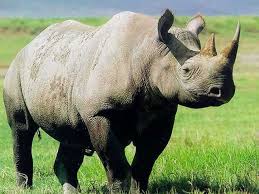 Kathmandu / Aug. 18: The rare one-horned rhino which was swept by a swollen river to India has been rescued unharmed.
The female rhino of estimated two and a half years was rescued yesterday and brought back to its habitat in Chitwan Naitonal Park (CNP) on a truck today, Information Official and Assistant Conservation Official Nurendra Aryal confirmed.
The rhino was swept away by the flood and transported 42 kilometre south at the Nepal-India border. It was found at the Bagaha area of India and rescued with the help of information provided by the Indian officials. The rhino was found in midst of a sugarcane field in a village.
Meanwhile, the CNP has stated that the recent flooding in the rivers has swept away at least five other rhinos. One of the rhinos was spotted heading towards Nepal-India border near the Balmiki Ashram while another was spotted in a forest near the Balmiki town along the Narayani River. Another missing pachiderm has been spotted at the Buffer Zone of Indian forest. RSS