Cabinet expanded with eight Ministers of State
August 20, 2017 | 9:42 pm&nbsp&nbsp&nbsp&nbsp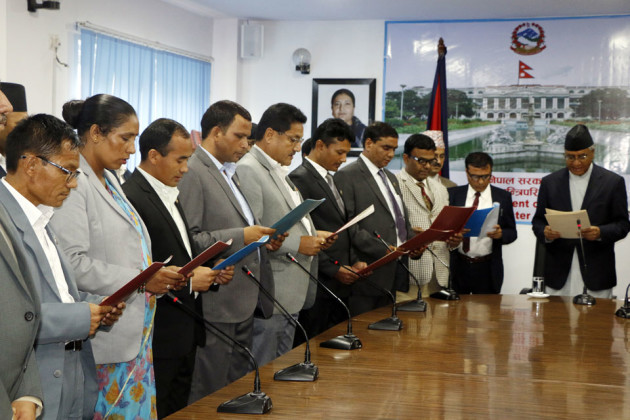 Kathmandu / Aug. 20: Prime Minister Sher Bahadur Deuba has expanded the Cabinet, inducting eight Ministers of State today. With this, the Cabinet has grown to 31 members altogether (three Deputy Prime Ministers, 19 ministers and eight state ministers).
The newly appointed State Ministers include Mohammad Jakir Hussein (Ministry of Women, Children and Social Welfare), Ram Singh Yadav (Ministry of Health), Shyam Kumar Shrestha (Home Ministry), Shambhu Lal Shrestha (Ministry of Energy) and Karna Bahadur BK (Ministry of Supplies).
Other newly inducted State Ministers are Chham Bahadur Gurung (Ministry of Urban Development), Goma Kunwar (Ministry of Livestock Development) and Ongdi Sherpa (Ministry of General Administration. All of them are from CPN (Maoist Centre).
PM Deuba administered the oath of office and secrecy to the newly appointed State Ministers at the Office of Prime Minister and Council of Ministers this noon.