Conclusion of elections to ensure enforcement of constitution: PM Deuba
October 2, 2017 | 8:57 pm&nbsp&nbsp&nbsp&nbsp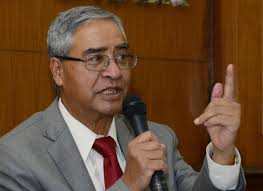 Nawalparasi / Oct 2: Prime Minister Sher Bahadur Deuba on Monday urged one and all to unite to make the elections to the House of Representatives and State Assemblies a success.
The Prime Minister said that successful conclusion of the polls means full enforcement of the new constitution and stability of democracy.
PM Deuba, also President of the Nepali Congress, asked for making the NC a first party in all elections, arguing that only a big party would be able to implement the constitutional document. "The constitution will be amended under the leadership of NC, which will be for the welfare of Madhesi people," he said, while addressing a mass gathering of NC cadres organised by NC Rupandehi in Rupandehi.
Also on the occasion, NC senior leader Ram Chandra Poudel pledged to fully enforce the constitution by addressing demands of Madhesi people through the constitution amendment.
NC central members Bal Krishna Khand and Minendra Rijal and former Minister of State for Finance Bharat Kumar Shah were also presented on the occasion. RSS